Burgos: This is the monumental city that gives access to Castile. It was founded in the year 884. First it was a fortress, under whose influence it developed. In the XI century it offered the pilgrims the hospital of Saint John ordered to build by Alfonso VI. At the end of the XII century, Alfonso VIII ordered to build the monastery of the Huelgas Reales, which was, as well as a pantheon of the Castilian kings, an order with 12 abbeys.
The progress of the city was linked to the pilgrimages and the development of the trade of Castilian wool, which was centralized in Burgos and was sent to Flandes through the Cantabrian ports.
Burgos: Es la ciudad monumental que da entrada a Castilla. Fue fundada en el año 884. Inicialmente fue una fortaleza, bajo cuya influencia se fue desarrollando. En el S.XI ofrecía a los peregrinos el hospital de San Juan mandado construir por Alfonso VI y a finales del S. XII, Alfonso VIII mandó construir el monasterio de Santa María la Real de las Huelgas que fue, además de panteón de los reyes castellanos, una congregación de 12 abadías.
El progreso de la ciudad estuvo ligado a las peregrinaciones y al desarrollo del comercio de la lana castellana que se centralizaba en la ciudad para salir por los puertos del Cantábrico en dirección a Flandes.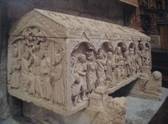 Cathedral of Burgos Monastery of the Royal Retreat Lady Berenguela sepulchre
(Monasterio de las Huelgas)